Click on products below for details.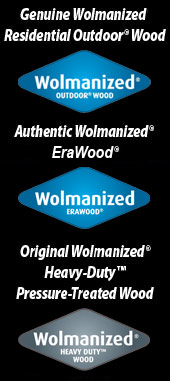 2 Randy Johnson St. Superior, WI 54880 • Phone: 715.392.2231 Toll Free: 800.482.WOOD
News
Three Treated Wood Brands Earn GreenSpec® Listing

Three brands of treated wood have been added to the GreenSpec® Directory, a listing of environmentally preferable building products compiled by BuildingGreen, Inc., publishers of Environmental Building News. The review staff has chosen to include SillBor® borate-treated wood, Wolmanized® L³ Outdoor® wood, and FrameGuard® mold-resistant wood. GreenSpec listing is widely recognized as a reliable source for green products.

"We are very happy that the GreenSpec people view these brands as we do," said Huck DeVenzio, manager of marketing communications for Arch Wood Protection, Inc., and Arch Treatment Technologies, Inc., which license the three brands. "Wood in general and these brands of treated wood particularly deserve recognition for their environmental attributes."
The three products serve different functions in building projects:
SillBor borate-treated wood is appropriate for interior uses such as sill plate and framing.

Wolmanized L³ wood is a new innovation in pressure-treated wood; it is protected by a nonmetallic, carbon-based preservative using organic chemistry and is intended for exposed, out-of-ground applications such as decking, rails, fence boards, and exterior trim.

FrameGuard mold-resistant wood comprises lumber, trusses, OSB, SIPs, and other wood products that are coated for resistance to mold and wood-destroying organisms. It also recently won an NAHB Green Building Award.

All three are made from a renewable resource, wood, which is treated to enhance durability in processes requiring less energy than many comparable building products.
More information is available at www.greenspec.com, www.wolmanizedwood.com, and
www.framegaurdwood.com.
Click on links below for other news articles (PDF Files)